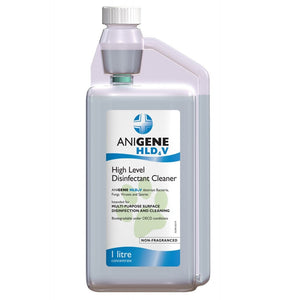 WISHLIST - Anigene HLD4V High Level Disinfectant Cleaner 1L
Regular price £16.38 Sale
Anigene HLD4V High Level Disinfectant Cleaner 1L
Anigene HLD4V High Level Disinfectant Cleaner has been specially formulated to provide an economic, environmentally friendly and effective product. This bactericidal, fungicidal, virucidal and sporicidal product has enhanced security, safety and simplicity and offers dilutions for virtually all environmental challenges.
It can be used for all reception areas, surfaces and equipment in the rescue centre. It is suitable for use on most surfaces, chairs, floors, walls and appliances.
When you buy an item from the Hope Rescue Wishlist and it will be delivered directly to the rescue dogs. Pick from toys, treats, food, collars, harnesses, bedding, cleaning supplies and other useful items for the rescue. It is a great way to donate and know exactly where your donation is going. Your gift will be delivered directly to the Rescue Centre at the end of the month.
Please note: If we are oversubscribed on a particular item we may substitute for another item that we are in need of. Your gift will be used where the need is greatest.
These are items which get given to the dogs in our kennels, please see the rest of our shop for items that can be bought ordinarily.